Are you ready to take your online earning potential to the next level? Affiliate marketing may be just the opportunity you've been looking for. With a website and a solid strategy, you can start earning money without the hassle of creating your own products or offering a service. And the numbers don't lie - according to Statista, businesses spent $8.2 billion on affiliate marketing in the U.S. in 2022, and that number is only set to grow. In fact, Influencer Marketing Hub predicts that the industry will reach a staggering $15.7 billion by 2024. So don't wait any longer - start your affiliate marketing journey today and position yourself for success in this thriving industry.
What is affiliate marketing?
At its core, affiliate marketing involves promoting a product or service belonging to another company. As an affiliate marketer, you share a special link that directs potential customers to that product or service. When someone makes a purchase through your link, you receive a commission. This commission is typically either a percentage of the sale price or a predetermined fixed amount. In essence, affiliate marketing allows you to earn money by connecting interested consumers with products and services they may be interested in.
Why should you do affiliate marketing?
There are several compelling reasons why you should consider affiliate marketing as a viable option for earning income online. Here are just a couple of the key benefits:

1. Low-Cost and Low-Risk
Starting a business from scratch can be both risky and expensive, as it often involves significant upfront costs for things like product development, hiring employees, leasing a physical location, and more. However, with affiliate marketing, the initial investment required is typically much lower. In fact, all you really need to get started is a website. This means that if things don't work out, you'll have only invested a small amount of money and time.

2. Easy to Scale
Most salespeople are limited to selling products from a single company. However, as an affiliate marketer, you have the ability to promote products from a wide variety of companies and earn commissions from each of them. This means that the potential for growth and scalability is virtually unlimited, as you can continue to expand your portfolio of affiliate products and services over time. As a result, many people find that affiliate marketing is a highly flexible and rewarding way to earn income online.
How does affiliate marketing work?
Affiliate marketing works by connecting three different parties: the merchant, the affiliate, and the customer. Here's a step-by-step breakdown of how the process typically works:
The merchant creates a product or service and wants to promote it to a wider audience.
The merchant sets up an affiliate program, which allows others (known as affiliates) to promote their product or service in exchange for a commission.
The affiliate joins the program and receives a unique tracking link to promote the merchant's product or service on their website, blog, or social media channels.
When a customer clicks on the affiliate's link and makes a purchase on the merchant's website, the affiliate earns a commission on the sale.
The merchant tracks all sales made through the affiliate's unique tracking link and pays the affiliate their commission at a predetermined interval (e.g. monthly or bi-weekly).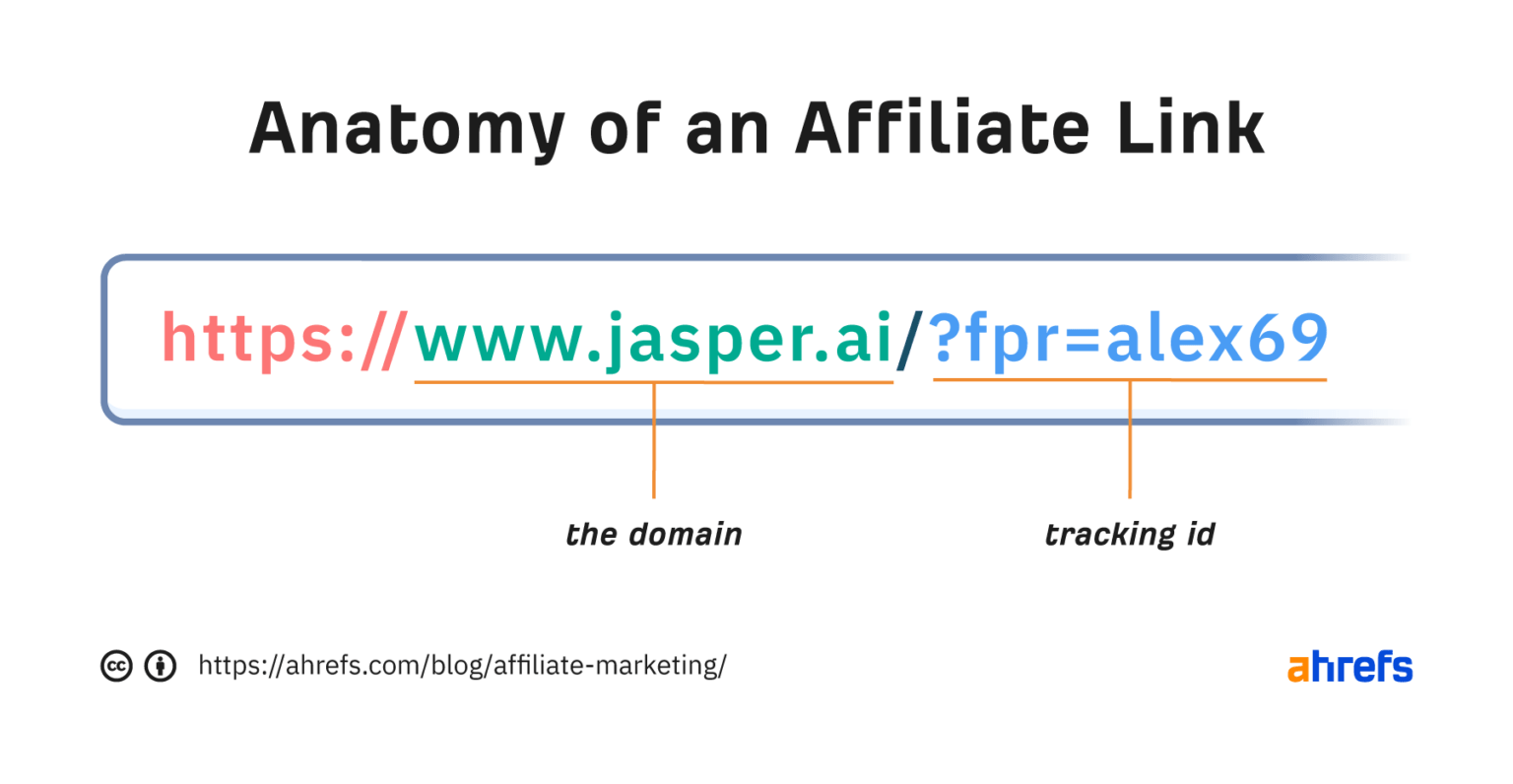 In essence, affiliate marketing allows merchants to leverage the marketing reach of others in order to promote their products or services to a wider audience. At the same time, affiliates have the opportunity to earn commissions by promoting products they believe in to their own audiences. And for customers, affiliate marketing can provide a valuable way to discover new products and services that they may be interested in purchasing.
How much money do affiliate marketers make?
The amount of money that affiliate marketers make can vary widely depending on a number of factors, including the niche they are operating in, the products or services they are promoting, the commission rates they are earning, and the size of their audience.
Some affiliate marketers are able to earn a full-time income from their affiliate marketing efforts, while others may earn only a small amount of supplemental income.
According to a survey conducted by the Affiliate Summit, around 9% of affiliate marketers reported making more than $50,000 per year, while around 21% reported making between $10,000 and $50,000 per year. However, it's important to note that these figures represent averages, and there are many affiliate marketers who earn both more and less than these amounts.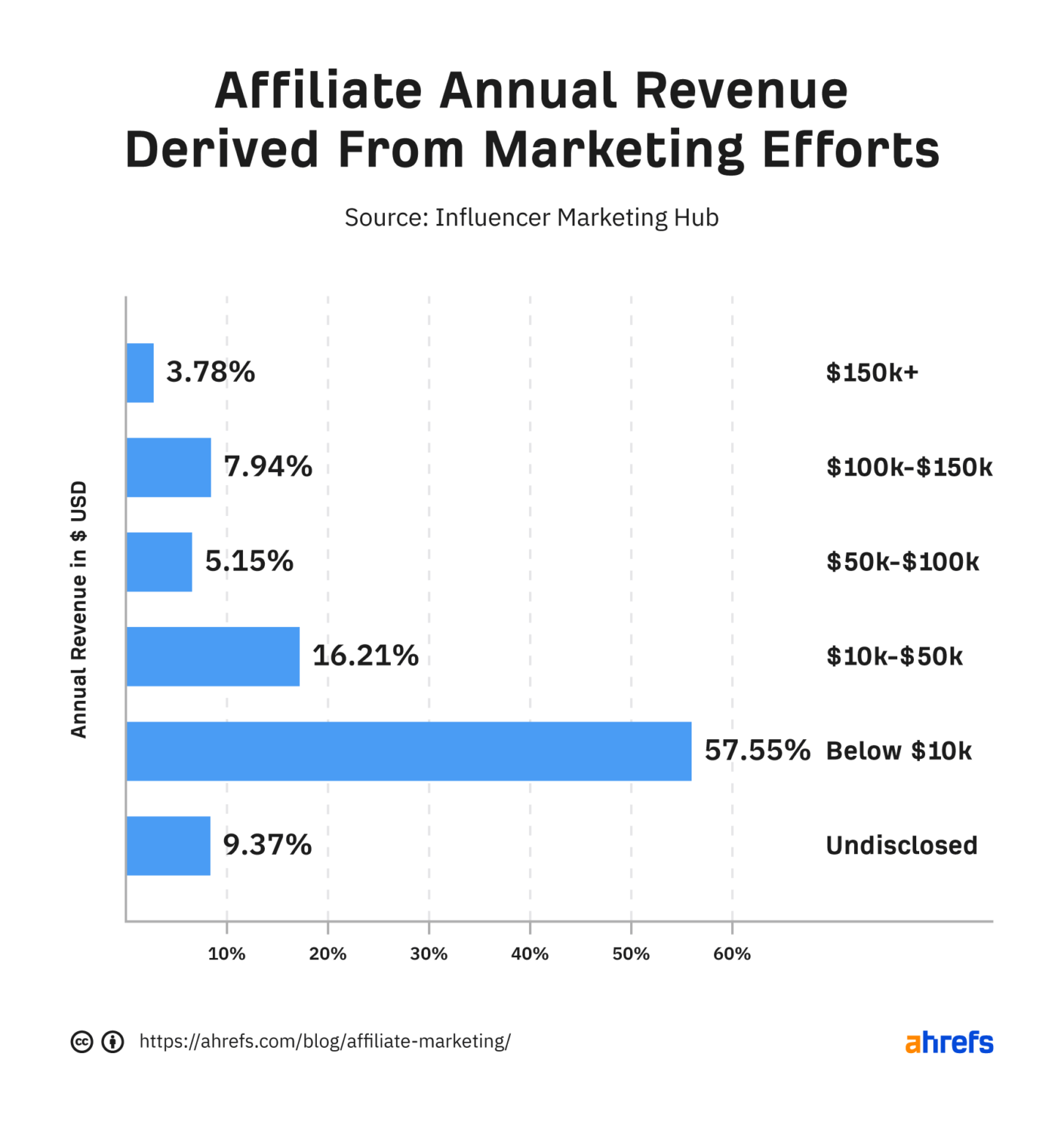 Ultimately, the amount of money that an affiliate marketer can earn will depend on a variety of factors, including their level of expertise, their marketing strategy, and the specific products or services they are promoting.
How to get started with affiliate marketing
Step 1: Choosing Your Niche
Your niche is the category you want to focus on and promote as an affiliate marketer. To stand out in the crowded online marketplace, it's important to choose a specific niche rather than a broad one. For example, instead of tackling the broad category of food, consider focusing on a narrower niche like grilling, which can help you build a more targeted audience and improve your SEO.
To find a good niche, ask yourself these four questions:
What am I good at?
What do I enjoy doing?
What am I curious about?
What do other people tell me I'm good at?
It's essential to choose a niche that you're passionate about, as you'll need to create a lot of content to succeed in affiliate marketing. If you select a niche you don't enjoy, it will be challenging to stay motivated when the going gets tough.
For example, when building my first affiliate marketing site, I chose to focus on one of my hobbies, breakdancing. Despite knowing nothing about marketing, I was able to grow the site to an estimated 2,000 monthly visits.
Step 2: Deciding on a Content Platform and How to Promot ourProgram
Affiliate marketing can be done on various platforms, including websites, YouTube, social media (such as Instagram and TikTok), newsletters, and podcasts. The platform you choose will depend on your personal preference and the preference of your niche. For example, if you are promoting a niche that requires visual demonstrations, such as breakdancing, a YouTube channel may be the best option, even if you prefer writing.
However, we recommend building a website and using search engine optimization (SEO) to rank your content high on Google. This allows you to generate consistent search traffic, resulting in a steady stream of clicks on your affiliate links. By building a website, you also have more control over your content and can establish your brand identity, which is essential for building a loyal following.
watch this
and this
Step 3: Finding Affiliate Programs to Join
When choosing affiliate programs to join, there are three main types to consider:
High-paying, low-volume: These are niche products with fewer buyers, but the commission rates are high. For example, HubSpot sells only to businesses, but their affiliate program pays well (100% of the first month and 15% monthly recurring commission).
Low-paying, high-volume: These are products with mass appeal, such as PS5 games. For example, Amazon only pays up to 10% commission. However, the advantage is that they offer commissions on the entire value of the purchase (not just the recommended product).
High-paying, high-volume: These are expensive products with mass appeal, such as credit cards. However, these programs tend to attract experienced affiliate marketers who may use black-hat tactics.
To find affiliate programs, you can search on affiliate networks such as Commission Junction, ShareASale, and ClickBank. You can also search for individual companies that offer affiliate programs, or look for products in your niche and see if they offer affiliate programs. When choosing a program, make sure to read the terms and conditions carefully and ensure that it aligns with your niche and audience.
watch this
and this
Wirecutter's review team includes experts with relevant backgrounds, such as a former NASA engineer to review air purifiers. By providing in-depth reviews and analysis, they establish trust with their audience and make it more likely that readers will click on their affiliate links. The bottom line is that quality content that provides real value to your audience is essential for successful affiliate marketing.
Affiliate marketing tools
In affiliate marketing, using various tools can make your work more efficient and easier. Below are some affiliate marketing tools that we recommend:
Ahrefs: An all-in-one SEO tool that can assist in researching keywords to target, auditing your website, researching your competitors, generating content ideas, and more.
Rank Math: A WordPress plugin that ensures your pages have optimal on-page SEO.
Google Search Console: A tool to find and fix technical errors on your website, submit sitemaps, identify structured data issues, check your Core Web Vitals, and more.
Google Analytics: A tool that provides crucial data and analytics for your affiliate website.
Thirsty Affiliates: A tool that helps you keep track of your affiliate links, see statistics on which links are receiving the most clicks, and prevent others from easily copying your website and swapping the links with their own affiliate IDs.
Final thoughts
In conclusion, these tips are not groundbreaking, but they provide the fundamental steps to get started with affiliate marketing. It's important to keep in mind that success in affiliate marketing doesn't happen overnight and requires time and effort. The initial focus should be on making the first affiliate sale and then setting new goals as the site grows. By experimenting and consistently producing high-quality content that solves readers' problems, an affiliate marketer can eventually build a site that generates a decent income.